If you read my blog, you know that my friends and I had planned a camping trip in the late summer to an area called Boxley Valley.  It is near the Buffalo River in Arkansas.  Well, we did it.  We planned and texted and called and met in person until we thought we had all our bases covered.  And, from our perspective we did!  No so, Mother Nature.  
We had been watching the weather all week because we were, after all, going on this trip to participate in a dark sky experience.  Dark Sky areas mean there is little or no artificial light in the vicinity to interfere with viewing the sky and all its beautiful inhabitants at night.  If it rains, or the cloud cover is heavy, there will be no stars to see.
Sure enough, the weather was calling for rain that weekend.  We discussed and continued to watch the weather for updates.  We even thought about rescheduling but for some of us, it was the only time available.  So, after much consultation and worry, we decided to go ahead.  We would have fun anyway, even if we didn't get to take marvelous pictures of stars and planets.  Even if we didn't get to drag out the great telescope we had brought along.  Even if we didn't get to see the herds of wild elk that inhabit this place.  We would have fun anyway!
And, of course, it was cloudy and drizzled rain, making the elk stay deeply ensconced in the woods for some protection.  We saw not one trace of the elusive creatures!  The clouds played cat and mouse games with us, making us hope for clear skies.  We constantly updated and encouraged each other just to have those hopes dashed as a thick cloud cover settled itself right as night fell.  No stars tonight.
There were plenty of other things to photograph, even this late in the year.  One of our group particularly loves flowers and butterflies, so she is always on the lookout.  Another specializes in landscapes.  They both take photography seriously.  They both have great cameras and expensive specialty lenses.  I just tag along and take snaps with my phone.  I probably embarrass them.  On so many levels!
We didn't accomplish our goal of viewing the elk or scanning the night sky, but we had fun anyway!  We set up our tents, collected downed firewood, unpacked our cars.  Walked along the road to get better perspectives for photos.  Visited with our camping neighbors as they, too, went in search of fuel for their campfires.  We admired others' tents and camping accoutrements as we trekked to the bathroom facilities.  Listened to the night birds as they came out.  Hooty owl made an appearance early in the morning.  We sat around the campfire, eating our simple food, making s'mores, listening to tall tales.  Laughing.  Relaxing.  Enjoying each other's company.  No phone calls.  There was no service.  No texting.  There was no internet.  Just being and enjoying life.
But I couldn't quite give up on stargazing.  I had a new app on my phone that would show where planets and constellations and other heavenly bodies were.  And I wanted to use it! So I got up at 3 in the morning and sat in the darkness, pointing my phone into the ether.  It showed me where every satellite and star and planet that we know of was supposed to be!  It was amazing!  Or would have been if the clouds had gone away.  As it was, I had to use my imagination. 
I finally gave up trying to locate things in the heavens and just sat in the quiet.  I could hear our neighbor's soft cough in the distance.  I could hear the river, running gently nearby.  And when the wind picked up early in the morning, I heard it long before I felt it.  I had forgotten how 'night' in the country is such a different world.  Full of contentment, I went back to my tent and settled in for a few more hours of sleep.
Speaking of my tent.  You need to check it out!  It made me think I just might want to go camping again!  A tent on legs…  A bed with a tent over it…  However you want to describe it, it was amazing!  I honestly don't know why I didn't know about this before.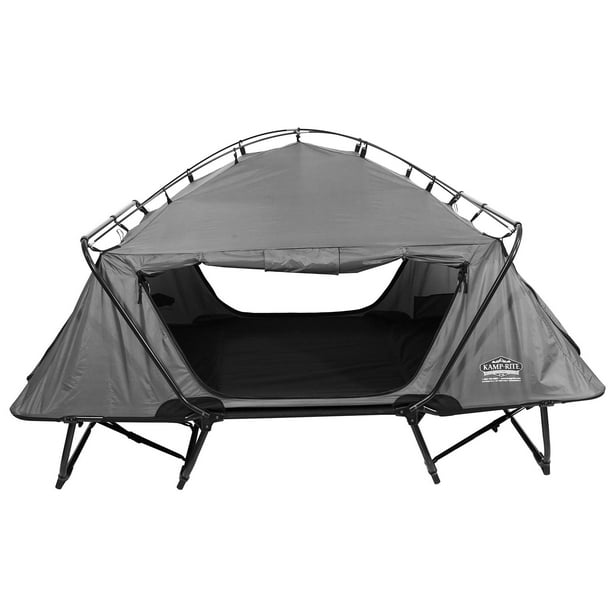 https://www.walmart.com/ip/Kamp-Rite-TB-Collapsible-Double-Elevated-2-Person-Tent-Bag-Rainfly-Gray/268994836
We had so much fun and I'm pretty certain I have committed myself to a new hobby.  We never actually set a date for another camping trip, but there has already been talk of 'next time'…  I'll keep you posted!
Oh, and I didn't see Bigfoot either on this trip.  So, there's that.
https://bgibsonbooks.com/do-you-like-camping/
Happy camping!